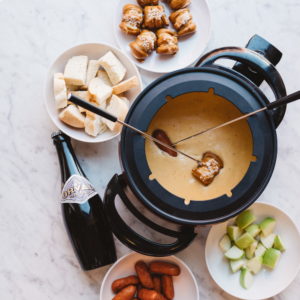 Ingredients:
1 11.2 oz. bottle of Orval Trappist Ale
8 ounces shredded sharp Cheddar cheese
8 ounces shredded Swiss cheese
2 tablespoons all-purpose flour
1/2 teaspoon salt
1/4 teaspoon ground black pepper
1 clove garlic, halved
1 dash hot pepper sauce (such as Tabasco)
Directions:
Combine Cheddar cheese, Swiss cheese, flour, salt, and black pepper in a bowl. Rub cut side of garlic clove around bottom and sides of fondue pot. Pour beer into fondue pot and slowly bring to a simmer over medium-low heat, about 5 minutes.
Gradually stir cheese mixture into beer, adding small amounts at a time, until cheese is melted and blended, 10 to 15 minutes. Stir hot pepper sauce into cheese mixture. Serve in a fondue pot with cubes of bread on the side; pairs beautifully with Orval, served in a chalice.
From The Food Dude