Lindemans Cranberry Lambic Sauce



Ingredients: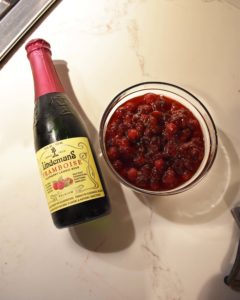 1 12-ounce bottle Lindemans Framboise or Strawberry lambic
1 pound cranberries
1 1⁄4 cups packed dark brown sugar
1 pinch salt
Directions:
Combine the cranberries, brown sugar, lambic and salt in a large saucepan. Bring to a boil over medium-high heat. Reduce heat to medium-low and cook, stirring occasionally, until the cranberries burst, about 5 minutes. Let cool about 10 minutes before serving, or chill before serving.