Give a martini glass a cinnamon-sugar rim.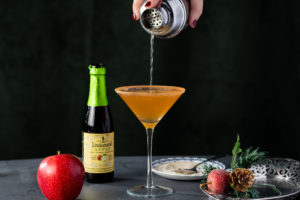 Muddle several fresh apple slices with about a tablespoon of simple syrup.
Add equal portions Jim Beam apple bourbon and Lindemans Pomme lambic.
Add a splash of ginger, a splash of butterscotch schnapps, and a dash each of both cinnamon and sugar.
Shake with ice & strain into the martini glass.
(Nicole Santarelli, Liberty Taproom, Exeter, PA)