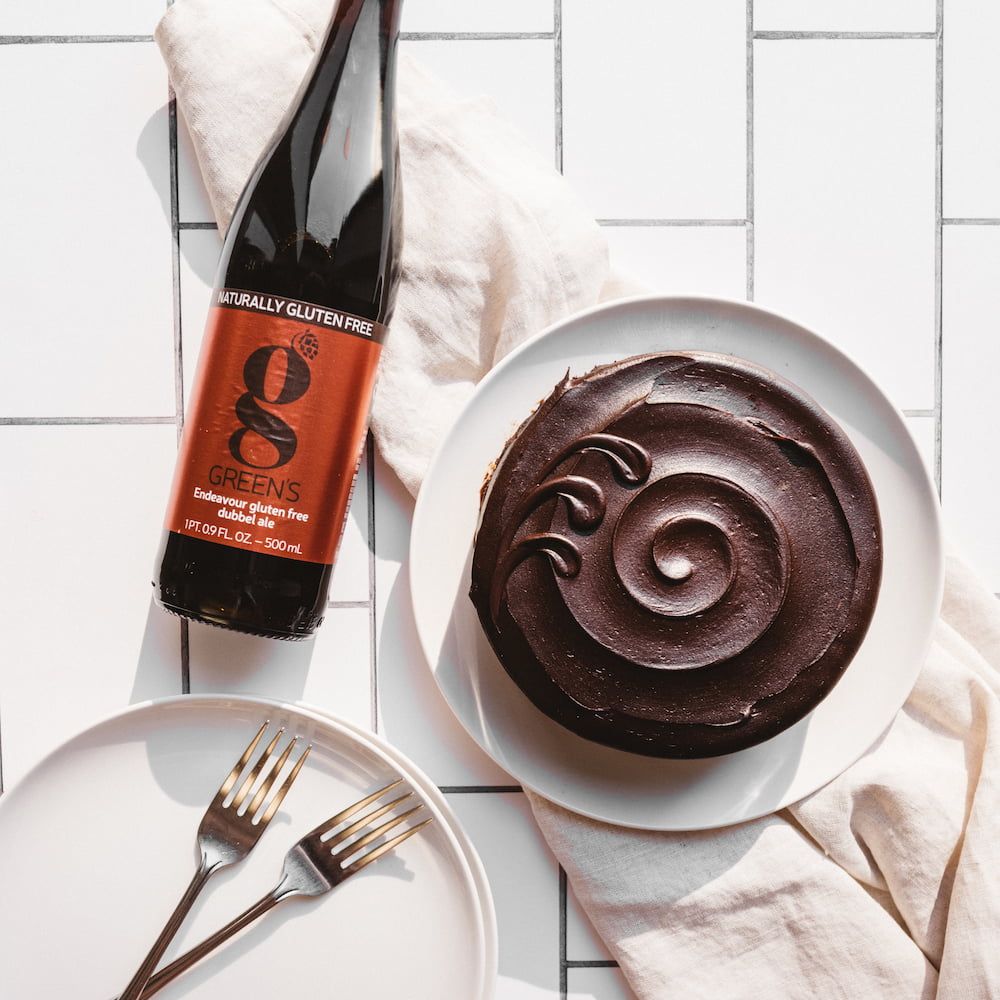 Green's Gluten-Free Dark Chocolate Cake with Green's Gluten-Free Endeavour Dubbel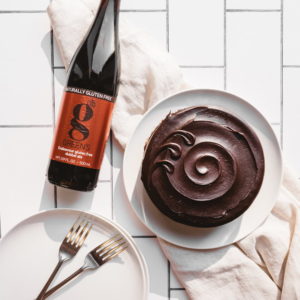 Ingredients:
1 cup Green's Gluten-Free Endeavour Dubbel Ale
8 Tbs. unsalted butter or Earth Balance Shortening
3/4 cup unsweetened cocoa powder
2 cups granulated cane sugar
3/4 cup sour cream or Tofutti Sour Supreme
2 eggs
1 Tbs. (*not tsp.) gluten-free vanilla extract
2 cups Jules Gluten FreeTM All Purpose Flour
1 Tbs. (*not tsp.) baking soda
Easy Cream Cheese Frosting:
8 oz. cream cheese (may use soy cream cheese)
1 cup confectioners' sugar
1/2 cup heavy cream or scant 1/2 cup half & half (may use soy whipping cream as a dairy-free alternative)
Directions:
Preheat oven to 350 F.
(Note- you will need a large saucepan for this recipe, not a mixer and mixing bowl!)
Oil a 9-inch springform tube or springform pan (if using plain springform pan, line the bottom with parchment paper) or 9 x 13 pan.
In a small bowl, whisk the sour cream with the eggs and vanilla.
Pour the 1-cup of ale into a large saucepan (drink the rest!). Add the butter and heat just until melted over medium heat. Whisk in the cocoa powder and the sugar until smooth.
Add the egg mixture into saucepan mixture and whisk. Add the flour and baking soda until mixed. Pour into the oiled pan and bake for 35-40 minutes, or until a cake tester inserted into the center of the cake comes out clean. Let the cake cool completely in the pan on a cooling rack and remove from the pan when fully cooled.
Frost the top of the cake with a gluten-free cream cheese or white frosting of choice.
Easy Cream Cheese Frosting:
Whip the cream cheese and sugar until smooth, then slowly stir in the cream to make spreadable consistency.