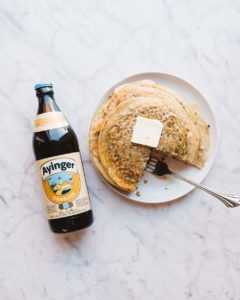 Serves: Four
Ingredients:
¼ l (1 cup) Ayinger Ur-Weisse
200 g (about 1 cup) flour
Salt
1/8 l (1/2 cup) milk
100 g (4 oz.) sprouting seeds (mung beans, soya, alfalfa, radish, cress), roughly chopped
4 eggs
Clarified butter for frying
Directions:
Mix the flour, the salt, the beer and the milk, add the sprouts and stir in the eggs until batter is smooth.
Heat clarified butter in a frying pan and pour in batter to make flat pancakes. The pancakes can be served rolled up and filled with vegetable ragout. Cut in strips, they can also be added to clear soups.